Mark Your Calendars for the 2019 PCA Annual Conference!
Wellness in Counselor's Professional and Self Identity
November 8-10, 2019

Penn Stater Hotel and Conference Center, State College, PA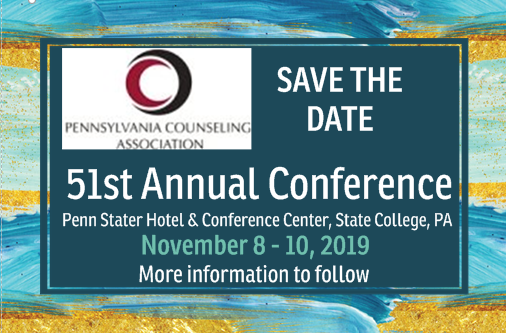 Sponsorships and Exhibits are Available!
Click below for information about sponsorships and exhibits at the PCA Annual Conference!
2019 PCA Sponsorship and Exhibit Form
Call for Proposal Submissions
Submissions can be submitted through the following link:
https://www.surveygizmo.com/s3/4936245/2019-PCA-Conference-Proposals
Proposals are due by June 16, 2019. The theme of the conference is wellness in counseling and personal identity and all proposals should conform to The Indivisible Self: An Evidence-Based Model of Wellness themed tracks, which include Creative, Coping, Physical, Essential, and Social Wellness (Myers & Sweeney, 2004). Feel free to email with any questions about the proposal process to PCAConferenceProgram@gmail.com. Submission decisions are tentatively scheduled to be sent out in Mid-July.
Conference Tentative Agenda (Subject to Change)
Friday, 11/8/19
9:00 am - 8:00 pm:
Registration
Pre-Conference Learning Institute
PCA Board Meeting
Conference Orientation
Poster Sessions
Network Social Hour
Saturday, 11/9/19
8:00 am - 8:00 pm:
Registration
Educational Sessions
Awards Banquet
Division Meetings
PCA Night of Celebration
Sunday, 11/10/19
8:00 am - 1:00 pm
Suicide Prevention Session
Ethics Session
Hotel Information
PCA has a block of rooms at the Penn Stater for this conference at a discounted rate of $139.00. Contact 814-863-5000 for reservations. This block is available on a space available basis through October 9, 2019.
Questions
Content Questions: Ashley Deurlein and Ryan Bowers, Co-Chairs


The Pennsylvania Counseling Association has been approved by NBCC as an Approved Continuing Education Provider ACEP No. 2039. Programs that do not qualify for NBCC credit are clearly identified. The Pennsylvania Counseling Association is solely responsible for all aspects of the program.
PCA Event Attendance Disclaimer:
Registration and attendance at, or participation in, the Pennsylvania Counseling Association (PCA) conferences, meetings, and events constitutes an agreement by the registrant to PCA for use and distribution, now and in the future, of the registrant or attendees' image or voice in photographs, videotapes, electronic reproductions and audio of such events and activities to illustrate and promote the PCA experience and products.
Save
Save