Mark Your Calendars for the 2019 PCA Annual Conference!
Wellness in Counselor's Professional and Self Identity
November 8-10, 2019
Penn Stater Hotel and Conference Center, State College, PA
Registration
Registration is open! Register today using the new PCA app: PCA Registration Link
Pre-Conference Institute - Sponsored by PALGBTIC (Friday, November 8, 2019, 1:00 - 4:00 pm)
PCA Member - $55
PCA Student Member - $25
PCA Non-Member - $75
PCA Student Non-Member - $40
Conference Early Bird Registration Rates (available through September 30, 2019)
PCA Member - $205
PCA Student Member - $99
PCA Non-Member - $230
PCA Student Non-Member - $130
Conference Registration Rates (beginning October 1, 2019)
PCA Member - $235
PCA Student Member - $129
PCA Non-Member - $260
PCA Student Non-Member - $160
Continuing Education certificates are available to PCA Members at no cost. Non-Members must pay an additional fee. If you are requesting CE for Social Work, there is a $10 fee for all registrants. In order to receive CEs you must request it on your registration.
*Please note: The PCA Conference registration rate does NOT include the Pre-Conference Institute. If you wish to attend the Pre-Conference Institute, please be sure to register for the event also.
*Cancellation Policy: For refunds contact pca.programs@gmail.com. Registrations may be refunded in full up to 30 days prior to the event. No refunds will be issued after October 8, 2019.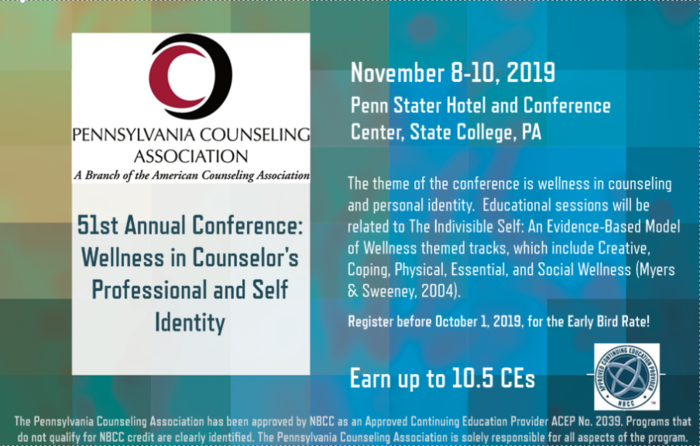 Keynote Address
"In the Event of a Sudden Loss of Cabin Pressure" . . . . Easier Said than Done.
Dr. Kurt L. Kraus
Kurt is a licensed professional counselor in Pennsylvania, professor of counselor education at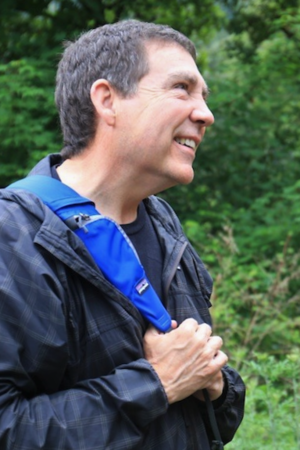 Shippensburg University of Pennsylvania, a Fellow in the Association for Specialists in Group Work, past President of the Pennsylvania Alliance for Counseling Professionals, former U.S. Fulbright Scholar to Bhutan, former Director and Chair of the National Board for Certified Counselors, Inc., an author and editor, an avid fly fisherman, a taijiquan practitioner and teacher, a son and brother, a partner and husband to Sally, a dad to Jocelyn, Emily, and Ian, a grandpa to Fletcher, and now a keynote speaker for the Pennsylvania Counseling Association. Kurt's keynote is intended is to introduce worthwhile norms for this group of conference goers, to celebrate our membership and the nobility of our profession, to center our attention on our well being, and not least to say something worth remembering.
Pre-Conference Institute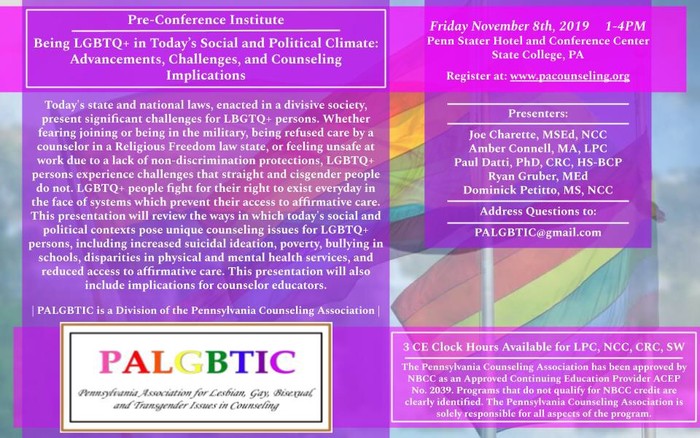 Sponsorships and Exhibits are Available!
Click below for information about sponsorships and exhibits at the PCA Annual Conference!
2019 PCA Sponsorship and Exhibit Form
Conference Tentative Agenda (Subject to Change)
Friday, 11/8/19
9:00 am - 8:00 pm:
Registration
Pre-Conference Learning Institute
PCA Board Meeting
Conference Orientation
Poster Sessions
Network Social Hour
Saturday, 11/9/19
8:00 am - 8:00 pm:
Registration
Educational Sessions
Awards Banquet
Division Meetings
PCA Night of Celebration
Sunday, 11/10/19
8:00 am - 1:00 pm
Suicide Prevention Session
Ethics Session
Hotel Information
PCA has a block of rooms at the Penn Stater for this conference at a discounted rate of $139.00. Contact 814-863-5000 for reservations. This block is available on a space available basis through October 9, 2019.
Questions
Ashley Deurlein and Ryan Bowers, Co-Chairs


The Pennsylvania Counseling Association has been approved by NBCC as an Approved Continuing Education Provider ACEP No. 2039. Programs that do not qualify for NBCC credit are clearly identified. The Pennsylvania Counseling Association is solely responsible for all aspects of the program.
PCA Event Attendance Disclaimer
Registration and attendance at, or participation in, the Pennsylvania Counseling Association (PCA) conferences, meetings, and events constitutes an agreement by the registrant to PCA for use and distribution, now and in the future, of the registrant or attendees' image or voice in photographs, videotapes, electronic reproductions and audio of such events and activities to illustrate and promote the PCA experience and products.
Save
Save