PCA's 54th ANNUAL CONFERENCE
October 14 - 16, 2022 * Pittsburgh, PA
---

KEYNOTE SPEAKER
A. Stephen Lenz, PhD, LPC, NCC is Chair and a Professor in the Department of Counseling, Health and Kinesiology at Texas A&M University-San Antonio.
Lenz began his career in the community mental health system where he worked as a licensed professional counselor and clinic director. Later, he transitioned to dual appointments in counselor education and private practice where he established a reputation for productive community partnerships aimed at promoting client well-being through training counselors in evidence-based practices, best practices for use of assessment and evaluation results, increased capacity for data-driven decision making, and life-long commitments to self-care and community interest. Lenz's community-based work has received more than 5 million in external funding, spans several of the contiguous United States, and has been acknowledged as best practice by the American Counseling Association and the Association for Assessment and Research in Counseling.
---
CONFERENCE AGENDA
Click below for a draft of the conference schedule. Please note, slight changes may be made as the conference preparation continues. PCA Conference Schedule


CONFERENCE PRESENTATIONS
Click below for a list of conference presentations. Please note, this list is subject to change.
PCA Conference Presentations List


PRE-CONFERENCE INSTITUTE
Sponsored by PS-SAIGE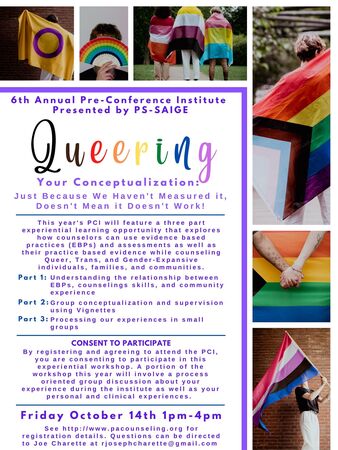 ---
REGISTRATION
Click to register online: Register Now
PCA 2022 Conference Registration Form (for check payments)
Full Conference Early Bird
(by August 31st)

Full Conference
(Sept 1 - Oct 14)
PCA Members - $259.00
PCA Members - $300.00
PCA Students - $159.00
PCA Students - $200.00
Non-Members - $329.00
Non-Members - $370.00
Non-Member Students - $199.00
Non-Member Students - $240.00
---

HOTEL INFORMATION
PCA has negotiated a discount rate of $119 single/double occupancy at the Doubletree Hotel Pittsburgh/Cranberry for attendees for the PCA Conference. To receive this rate, use the online booking link below or call the hotel at 724-776-6900 and ask for the PCA Conference Rate. The deadline for hotel reservations is September 22, 2022. Contact the hotel directly for extended reservations.
PCA Online Hotel Reservations Link
---
CONTINUING EDUCATION
The Pennsylvania Counseling Association has been approved by NBCC as an Approved Continuing Education Provider ACEP No. 2039. Programs that do not qualify for NBCC credit are clearly identified. The Pennsylvania Counseling Association is solely responsible for all aspects of the program.
---
PCA EVENT ATTENDANCE DISCLAIMER
Registration and attendance at, or participation in, the Pennsylvania Counseling Association (PCA) conferences, meetings, and events constitutes an agreement by the registrant to PCA for use and distribution, now and in the future, of the registrant or attendees' image or voice in photographs, videotapes, electronic reproductions and audio of such events and activities to illustrate and promote the PCA experience and products.
Save