Complete Story

06/01/2020
PAMCD Hosting Webinar

PAMCD is hosting a webinar Exploring Barriers and Themes linked to Racial Distress in The Counseling Relationship on Wednesday, June 10th from 12:30-1:30 pm.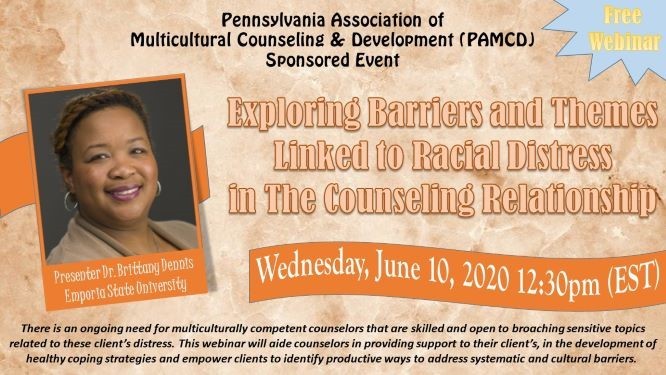 Presenter: Dr. Brittany Dennis, Assistant Professor, Emporia State University
A common phenomenon taking place in our community is the constant visual display of marginalized people being exposed to extreme acts of violence, social injustice, and unfair practices and standards within the community and the workplace. These constant environmental stressors take a toll on individuals causing some individuals to experience mental distress that impacts their quality of life and mental health. There is an ongoing need for multiculturally competent counselors that are skilled and open to broaching sensitive topics related to these client's distress. This webinar will aide counselors in providing support to their client's, in the development of healthy coping strategies and empower clients to identify productive ways to address systematic and cultural barriers.
Register at: https://us02web.zoom.us/meeting/register/tZUkcu2grjMvGtXImcl9cnxZJFRXIwkxFcAJ