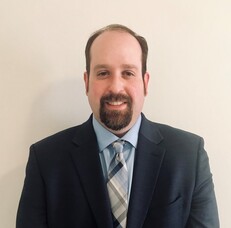 Congratulations to Dr. Stephen Kuniak who has been elected the 52nd PCA President. Dr. Stephen Kuniak earned his PhD in Counselor Education and Supervision from Duquesne University in 2014. He also earned his Master's in Counselor Education, focusing on Marriage Couple and Family Counseling, from Duquesne in 2008. He is a Licensed Professional Counselor in Pennsylvania and has been practicing for over a decade in the areas of family counseling, addictions counseling, and in private practice. In addition to these credentials Dr. Kuniak is also a National Certified Counselor and Approved Clinical Supervisor through NBCC.
Dr. Kuniak began his career practicing in Family Based Counseling Services. After a short time in practice he was promoted to a lead counseling role and then appointed program director of the family counseling agency. He reorganized the program, developed affiliation agreements with other agencies in the tri-county social services network, and more than tripled the staff at the practice within three years. After working to rejuvenate that program he was promoted to clinical director of the agency where he oversaw the clinical focus of several different programs and opened his private practice.
As well as his practice, Dr. Kuniak has a passion for clinical supervision and teaching and has supported many counselors in completing their degrees and in earning their licenses as professional counselors. Dr. Kuniak is currently an Assistant Professor in Messiah College's Graduate Program in Counseling. Prior to this position he taught as adjunct faculty at several graduate and undergraduate institutions. He has a history of leadership experiences and awards beginning with having earned the rank of Eagle Scout as a youth. In his professional career he has acted as a board member of numerous mental health and drug and alcohol advisory boards. He has also acted as a consultant to local school districts and social service organizations. In his current academic role he is a member of several committees and chairs a college subcommittee.
In the Pennsylvania Counseling Association, Dr. Kuniak serves as the Marketing Director. He is focusing on processes that will explore our members' hopes for the organization and increase the value of membership. He is also a member of the Government Relations Committee, the Conference Committee, and assisted with review of proposals for the 2018 conference. In addition to his experiences in PCA, he is a member of the American Counseling Association, the Association of Counselor Education and Supervision, and Chi Sigma Iota. He has been featured in Counseling Today twice, once in an online exclusive, and most recently his research and practice was highlighted in a cover story. Dr. Kuniak is seeking to help PCA in its mission to promote and support the professional counselors of Pennsylvania. He intends to increase the connectedness of our organization so that we professionals, students, educators, and supervisors can support one another in our mission to provide the highest quality mental health care and advocacy for those that we serve.